Google AdWords Workshop in San Jose, CA 11/9/2007~11/11/2007
I spent the last 4 days in San Jose assisting my good friend Simon Leung with his first Google AdWords Workshop in San Jose, California.Simon had been planning to develop his own event after 15 months of world tour speaking on various marketing event. We spent the last few months planning all the detail of putting this seminar together, and finally the team were able to present the first Adwords workshop to a limited attendees by Alejandro Reyes, John Guanzon, Matt Ellsworth, Kevin Finney, Leo de Leon, Robert Secades, Daniel Arzuaga, Lisa Weinberger, Garrett Leyenaar, Toki Tover and myself.
The intense 3 day event is packed with insider information that was never disclosed to the public, as it went extremely well for the students. Most came with frustration of being Google slapped, and left with complete optimized strategies to reverse the slap for their adword efforts.
Being in charge of putting together this event, it was very rewarding to know that I have been appointed to manage all future event for Simon. My focus for the next few weeks is to complete the video production of the 3 day workshop into a powerful home study course.
For those who are interested in attending the event in the future, please send an email to adwordworkshop@getresponse.com to be on my notification list when the new schedule is released.
Below are some picture from the event! Enjoy & to your continual success!
Andy Huang
Google AdWords Workshop in San Jose, CA 11/9/2007~11/11/2007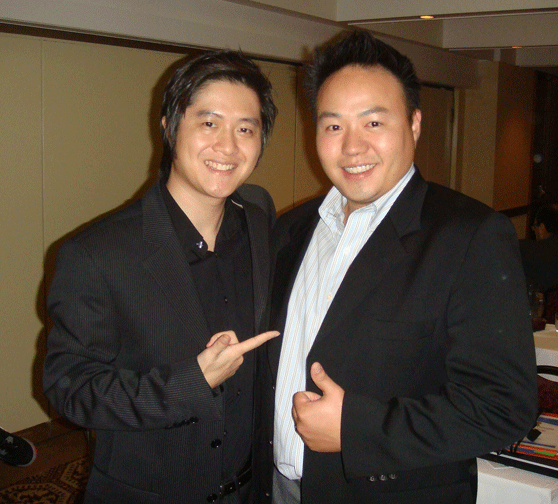 Simon & Andy
Event Sign
AdWords Workshop Presentation
AdWords Workshop Live Demonstration
AdWords Workshop Live Campaign Review
AdWords Workshop Live Interactive Exercise
AdWords Workshop Attendees
About Andy Huang
Andy Huang brings years of results-driven technology marketing expertise to the position as Speaker, Coach, Trainer, Analytic & Google Partner. He has the innate ability to combine traditional and cutting edge marketing methods to quickly grow brand awareness and increase market share across 197 verticals and over 300+ clients. One was acquired in 2015 for $37 Billion, another in 2013 for $1.1 Billion both Nasdaq listed. With extensive experience in revenue driven servicing His aggressive implementation of these strategic proactive revenue planning & marketing efforts rapidly impact all of clients business's bottom line. Now with business blogging on the internet, Andy Huang will share with you some of his most successful business resource and strategies to help fuel your success online!