Wachovia Stock hits 16-year low
Friday the 13th came as a real black friday for the 4th largest national bank Wachovia (WB), as its stock price tanked to a 52-week low. Wachovia hit a 16 year low with more worries about rising credit losses continue to shock investors in to a panic to dump these stocks. The financial selloff came a day after Cleveland-based KeyCorp (KEY) plunged 24% in the wake of its decision to raise $1.5 billion in new capital and slash its quarterly dividend by half to save money. Other regional banks that have been in free fall this week include Washington Mutual (WM), which has lost half its value in just the last 45 days.
Take a look at the option volume today, as we are only 1 week away from the expiration date of June 20th, which is next Friday.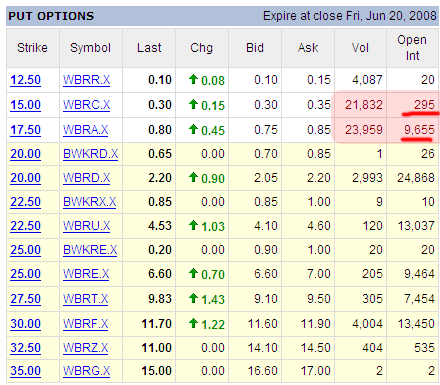 As you can see an explosive volume today for June 15 Strike, 10x the volume for all previous open interest, and almost 3x more for June 17.50.
Obviously, the big boys are hedging against for more than 5,000,000 shares of WB stocks to sink further within the next few days.
This is opportunity to for you guys to take advantage to make some quick profit with downside weakness with Wachovia on Monday.
Andy Huang
About Andy Huang
Andy Huang brings years of results-driven technology marketing expertise to the position as Speaker, Coach, Trainer, Analytic & Google Partner. He has the innate ability to combine traditional and cutting edge marketing methods to quickly grow brand awareness and increase market share across 197 verticals and over 300+ clients. One was acquired in 2015 for $37 Billion, another in 2013 for $1.1 Billion both Nasdaq listed. With extensive experience in revenue driven servicing His aggressive implementation of these strategic proactive revenue planning & marketing efforts rapidly impact all of clients business's bottom line. Now with business blogging on the internet, Andy Huang will share with you some of his most successful business resource and strategies to help fuel your success online!
What you can read next